Catch the falling crown cap
No more picking up scattered crown caps from the floor!
Project 62 - Online since: 19/02/2008, Number of visits: 83683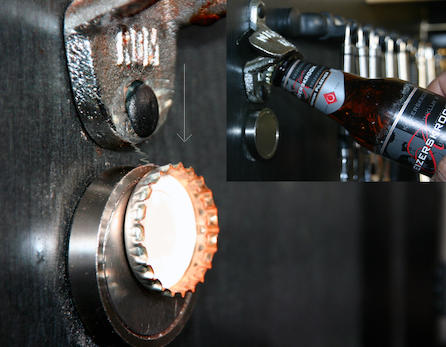 I used a
magnetic hook
to create a means of catching crown corks (beer bottle caps).
I removed the hook in the magnet. Then I drilled a 16 mm hole in the bar directly underneath the bottle opener and glued the neck of the magnet into it.
When a beer bottle is opened, the cap falls straight over the magnet and is caught there. Due to the strength of the magnet, one can open several bottles and still the caps will be caught by the magnet and not fall to the floor.
Note from the supermagnete team:
Since the end of 2014 we carry a ready-to-use and decorative bottle cap collector. It includes a practical plate to collect bottle caps.
Since 2015 our customers also have pot magnets with screw socket at their disposal instead of hook magnets, so you don't have to unscrew the hooks.