Exercise for rabbits
A flexible and easy to attach annexe to a rabbit pen
Project 336 - Online since: 06/04/2010, Number of visits: 86097
Material needed:
2 wooden frames, each approx. 60 x 60 cm
1 wooden frame approx. 60 x 100 cm
2 pieces of wire lattice, each approx. 60 x 60 cm
1 piece of wire lattice approx. 60 x 100 cm
8 block magnets Q-30-10-05-N
Adhesive UHU MAX REPAIR
2 steel pipes, each approx. 50 cm long, diameter 10 mm
Connector plates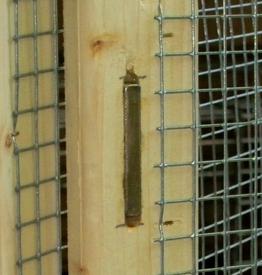 Assembly:
First, I had to mill a 10 mm deep notch in every corner of the square frame (60 x 60 cm). I did this with a 5 mm milling cutter. Then, I attached the wire lattice on the one side of all three wooden frames. At last, I used your adhesive
UHU MAX REPAIR
to glue two block magnets into the notches.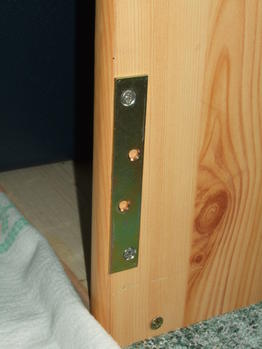 I screwed small connector plates on the cabinet in which the rabbit pen is located.

Now, I can connect the three wooden frames through magnetic force. The side pieces on the left and right adhere on the one side to the connector plates and on the other side to the steel pipes of the front side (see picture below). The advantage of this construction is that I can make the connection in various angles due to the radius of the pipe. The connection doesn't break even when you move the annexe a little bit.
Note from the supermagnete team: Another interesting project regarding the keeping of small domestic animals is the application
Vacation Home for Rats
.