Flexible numbers on the car
Rrmmm! Rrmmm! And they still last!
Project 104 - Online since: 20/06/2008, Number of visits: 91309
We are using your super magnets for professional purposes. My son is a photographer and works as the official photographer for the Rally Driving and Safety Training School
3A Compétition
.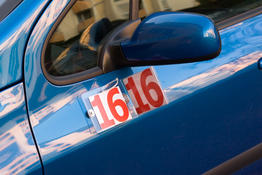 He offers photo and video documentation to the course participants. At the end of the course day, the photos should be available to the participants and must therefore be easily identifiable according to driver. For this purpose, each driver is issued a number at the start of the day. This number does not correspond to a particular car but is personal to the driver, because the same car may be used by different drivers throughout the day.
The courses take place in a closed area so that no regular road traffic is involved.
The number is glued to a number plate made of 2mm thick polycarbonate, which is attached to the car using super magnets.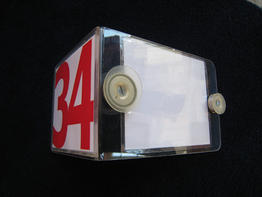 In total, we have approximately 30 polycarbonate number plates. The two countersunk pot magnets were screwed to the polycarbonate plate, which we then covered with a thin silicone disc so that the car lacquer would not be damaged when attaching or removing the number plate. On the side closest to the bend in the plate we used a
CSN-25
; on the outside edge we used a somewhat smaller
CSN-20
.