Using forgotten spaces
Utilisation of previously neglected metal surfaces
Project 366 - Online since: 01/06/2010, Number of visits: 94221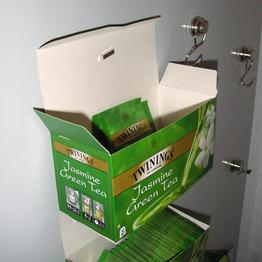 With your magnets I can make use of some surfaces that I haven't used before! This is practical and decorative at the same time.
Part 1: Metal cupboard as beverage corner
With a
Q-15-04-04-MN
each you can attach the tea cartons, which are always in the way, to a magnetic cupboard. Advantages: Good overview of tea assortment and easy handling. When one carton is empty, just remove the magnet and attach another carton.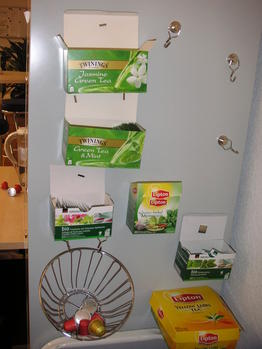 With 2
FTNT-25
magnets I attached a steel bowl to the same cupboard. This bowl is ideal for storing Nespresso discs.
This solution looks good and is very practical.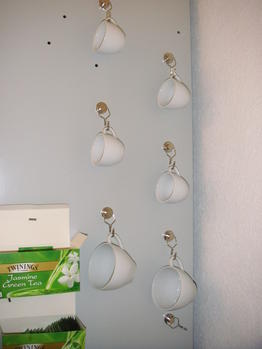 With various
FTNT-25
magnetic hooks I hung up cups of different sizes. You can hang them up right after washing them when they are still wet and let them air-dry.
Part 2: Organising the mirror cabinet
The mirror cabinet in the bathroom is a practical piece of furniture. You hide objects in there, but with time it becomes too confusing and you don't even remember what you have stored in there. When you happen to need the tweezers at one point it become a major fishing expedition.

My practical solution: You can use magnets to hang up tweezers, scissors, hair clips, etc. on the inside of the mirror cabinet. This way, everything is clearly arranged and handy when you need it.