Advent calendar with magnets
Easy to make with a muffin pan or origami boxes
Online since: 21/09/2009, Number of visits: 166932
How wonderful to see the eyes of children (or even adults) light up every day when they find the little surprises in their advent calendars.
It doesn't take much to make these fun calendars yourself. The following video and instructions will show you how to easily make two kinds of magnetic advent calendars at home.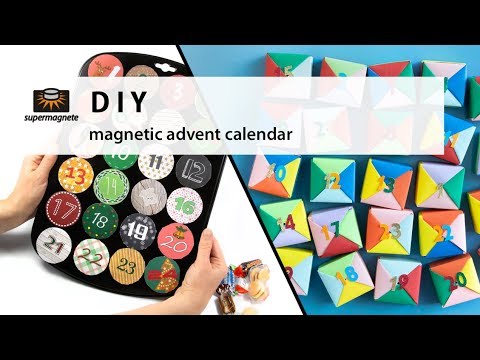 Advent calendar made with origami boxes
Materials needed for the origami boxes
192 sheets of square 10 x 10 cm paper in various colours (or 9 x 9 cm notebook paper)
Thick coloured construction paper
24 self-adhesive magnets (S-20-01-STIC)
Glue
24 sweets, gifts, or activities - one for each day
Instructions for making the origami boxes
Step 1

Use the origami paper to fold 24 boxes (according to the downloadable PDF instructions below).

With a little practice (or help) you can make your own beautiful, colourful, little, sturdy boxes.

TIP: Turn on some music or an audiobook and get your Christmas spirit on. You can change the colour combinations and mix it up a little.
Step 3
Glue and press on a self-adhesive magnet
S-20-01-STIC
on the bottom inside each box.
Fill the boxes as desired.
Step 4

You can now hang up the filled boxes on any ferromagnetic surface.
It is remarkable: On a steel plate, you can fill the boxes up to 150 g. On our fridge, a box can hold up to 100 g.
The boxes don't adhere to magnetic glass boards or walls that are painted with magnetic paint.
The filling volume per box is 5 x 5 x 2,5 cm (10 x 10 cm sheet) or 4,5 x 4,5 x 2 cm (9 x 9 cm sheet).
Have fun crafting!!!
Advent calendar on a muffin pan
Materials needed
Muffin pan with 24 holes à Ø 5,5 cm (Alternatively: 2 muffin pans with 12 holes each à Ø 8 cm)
Make sure it is not an aluminium pan: Magnets wouldn't adhere to it
2 x self-adhesive magnetic sheet in A4 format (MS-A4-STIC) to cut and glue
A4 templates to download: See PDF
Sharp scissors
24 sweets, gifts, or activities - one for each day
Insructions
Step 1
Glue the printed A4 templates (see PDF) on the self-adhesive
magnetic sheet
.
Below, we provide different print templates in two sizes and colour variations.
Step 4

Now you can hang up the completed advent calendar (most pans come with a hole).
Alternatively, you can attach
four strong neodymium magnets (e.g. S-15-08-N)
on the back of the pan and hang up the calendar on a ferromagnetic surface (e.g. fridge).
The entire content of this site is protected by copyright.
Copying the content or using it elsewhere is not permitted without explicit approval.