Car shelf
Adds additional shelf space outside the camper van
Online since: 02/10/2018, Number of visits: 168180
Especially during the summer months a lot of time is spent outside the camper van (in this case a VW T5). Very quickly, the camping table or the ground can become cluttered with a variety of items. This home-made car shelf provides additional storage space to remedy the situation.

Materials needed
2 pot magnets with threaded stud, type GTN-48
2 pot magnets with threaded stud, type GTN-40
2 threaded rods M8
2 hexagonal connector nuts M8
2 metal tubes
elastic cord
narrow wooden slats
string
Frame assembly
Cover the bottom of each pot magnet with a rubber cap to prevent scratching the paint of the car.
Place the pot magnets on the car at the desired distance.
Bend the threaded rods so that they can be attached to the pot magnets parallel to the ground.
Attach a metal tube to each of the top parts.
Pass an elastic cord through each tube and tie a knot.
Using the connector nuts, attach the threaded rods to the pot magnets.
Insert the shelf (see below).
The use of narrow wooden slats allows for space-saving storage of the car shelf. For the top shelf, the wood slats were simply tied together using a piece of string. This way they can be pulled through underneath the elastic cords all together and without a problem. For the lower, narrower part of the shelf, the slats were just laid down unattached. That is fine because this space only holds small items.
As you can easily see, the finished car shelf can support quite some weight. According to its creator, it should be capable of holding up to 6 kg. We, here at supermagnete, think that is a strong performance.
Note from the supermagnete team:
You could also use already
rubberised magnet systems
for this project. However, please note that, at the same size, they will have a significantly lower adhesive force than magnet systems without rubber coating.
Update 2020
Mr Borner kept continuously improving the camper shelf, and now two different versions are available for purchase: storage system 80 / 20 as well as storage system 80 / 20 +. The latter has a small lower tray in addition to the large shelf.
Sturdy wood composite boards have replaced the wooden slats. They are waterproof glue-laminated with oiled edges, making the shelving unit completely weather-resistant.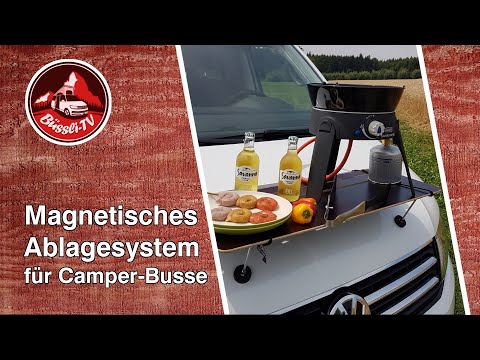 The entire content of this site is protected by copyright.
Copying the content or using it elsewhere is not permitted without explicit approval.