Supermagnete chronology
The company history of supermagnete depicted with magnets
Online since: 05/08/2014, Number of visits: 724136
Exhibition - Company history
For our company anniversary we came up with something very special: We had an entire office wall painted with
magnetic paint
and depicted milestones of our company history with magnets.
How to
Necessary material:
Cutter
Metal measuring stick
Cutting surface
Suitable photos
1) Edit photos as desired with a picture editing software and print them on photo paper.
6) Place the photos on the magnetic paint.
Big advantage: The photos can be easily removed and exchanged, if the space gets tight or the information is no longer valid.
Elements of the chronicle
We highlighted the following supermagnete key points of the past 15 years with magnetic sheets:
Milestones
Staff
Order volume
Events
Assortment growth
Milestones
The most important innovations at supermagnete from 2003 to 2018 (new shops, relocations) were depicted on the magnetic paint as text boxes.

For the timeline 2003-2018 under the pictures we attached several metres of

white magnetic tape 40mm

on the magnetic paint and added year dates.
Since 2018 we have replaced the white magnetic tape with
printable magnetic labels
. They look more professional and can be moved around on the wall.
Staff
Each employee was placed at the year when he or she started working at the company.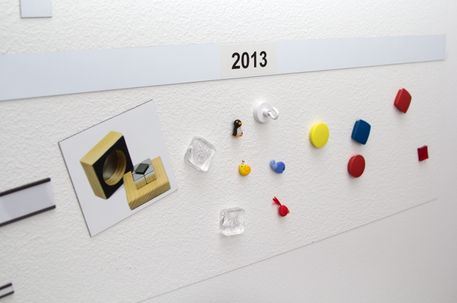 New magnets
On the far right side of the chronicle we had room for new magnets that we recently added to our shop:
Since the fall of 2013, we have added many more new products, such as
magnetic paper
, which is even easier to use than self-adhesive magnetic sheet.