Magnetic cable organizer (vertical)
Idea from customer Markus Laire from Finland:
You can use the bottom side of a shelf to properly hang up cables: Just attach one or more strips of
self-adhesive metal tape
to the bottom of a shelf, press on firmly, and place discreet
white magnetic hooks
on the tape. Now you can beautifully sort and hang up your cables.
Note from the supermagnete team:
Addition by Andreas zum Winkel from Germany:
Thanks to a bookend, 2 screws and 6
small pot magnets with hook
I was able to end my cable mess in the drawers. I screwed the bookend top down to the desk and attached the hook magnets.
Now you can loop the cable through the hooks. A simple and practical solution.
Magnetic cable organizer (horizontal)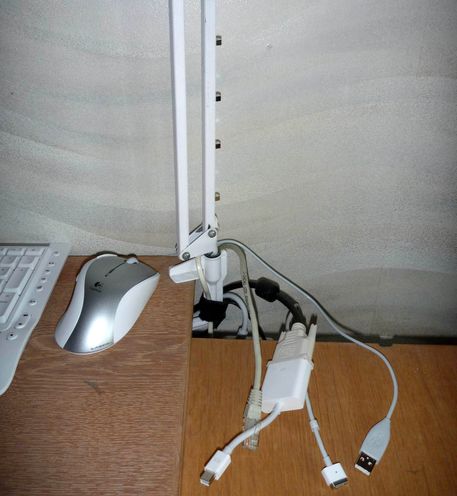 Addition from customer G.C. from Switzerland:
I have an external screen and a mouse that I can connect with my laptop. But I often have my laptop in my bag, which leaves cable clutter on my desk (4 different cables).
In order to change that I placed
W-05-N
cube magnets along the stem of my metal desk lamp. Now, I can attach almost every cable to a cube magnet (see picture below).
Similar projects
The following projects also simplify your handling of cables:

And here is another application on how to keep your desk tidy: