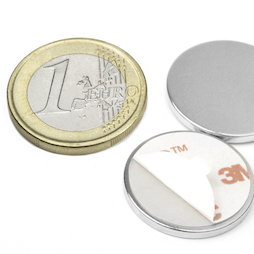 Disc magnet self-adhesive Ø 22 mm, height 2 mm
Neodymium, N35, nickel-plated
Description
This very flat disc magnet (22 mm diameter, 2 mm thick) has a very strong self-adhesive side made of cushioning foam and an impressive adhesive force of approx. 2,5 kg. With this disc magnet, any surface can quickly turn into a notice board and even heavy objects can be hung anywhere without causing any holes. These self-adhesive magnets are shipped in pairs. For example, if you order 10 pieces, you will receive 5 magnet pairs.
Please note: Self-adhesive magnets need to be placed, pressed and dried on suitable surfaces to adhere properly. Please read our
FAQ about self-adhesive magnets
.
Read about more features and tips
Technical data