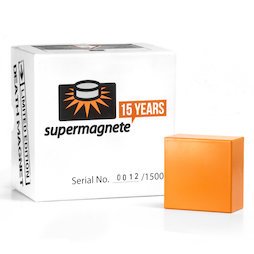 Block magnet 50,8 x 50,8 x 25,4 mm
Neodymium, N40, nickel-plated
Description
This article is remaining stock. As soon as the inventory is sold, it will be taken out of the assortment.
The legendary DEATH MAGNET in supermagnete orange
We at supermagnete celebrate our 15th company anniversary! For that reason, we pimped our infamous bestseller, the DEATH MAGNET, and introduce it as our first ever Limited Edition.
There is a total of
only 1 500
available and each of the specially designed packages features its own serial number. The stove-enamelled DEATH MAGNET in supermagnete orange is carefully bedded inside a cardboard box and awaits its next mission. It almost appears innocent on the white fabric - but don't be fooled. Its 100 kg holding power must not be taken lightly. Definitely review our enclosed safety tips!
Read about more features and tips
Technical data