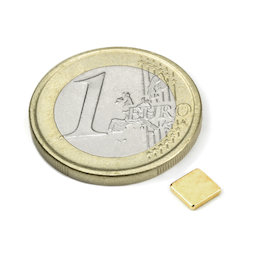 Block magnet 5 x 5 x 1,2 mm
Neodymium, N50, gold-plated
Description
And here we have the ultimate
CD-ROM model airplane engine do-it-yourself magnet!
Due to high demand, we made this magnet a bit thicker (1,2 mm instead of 1,0 mm) and increased the magnetisation a bit (N50 instead of N48). Now we've reached the end of the line - it doesn't get stronger than this!
For additional photos, see
Q-CDM48-G
.
Read about more features and tips
Technical data