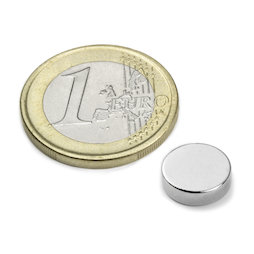 Disc magnet Ø 10 mm, height 3 mm
Neodymium, N42, nickel-plated
Description
Bestseller: More than 10 000 000 sold!
This reasonably priced disc magnet is wonderfully suitable for various craft projects. For example, for production of very strong refrigerator magnets or whiteboard magnets (e.g., with
UHU MAX REPAIR
glued to stones, onto a piece of wood, or embedded in plaster...) This small magnet can easily hold 15 pieces of A4 paper!
Read about more features and tips
Technical data