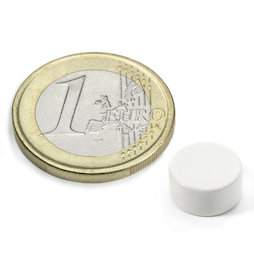 Disc magnet Ø 10 mm, height 5 mm
Neodymium, N42, epoxy coating
Description
A disc magnet 10 x 5 mm with a Ni-Cu-Ni base coating and a top coat of black or white epoxy resin. It can be glued or cast with epoxy resin.
The white paint is similar to RAL 9001 (creme-white) or RAL 9002 (greyish-white).
White magnets are pretty much invisible on white magnetic strips or whiteboards, the same goes for black magnets on black ferromagnetic surfaces.
Technical data