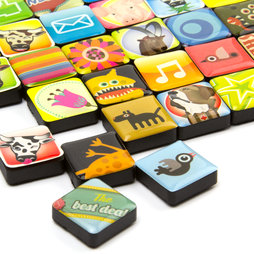 Icons
fridge magnets square, set of 4, in various designs
Please select your desired model.
Description
Funny little square magnets with icons. A tiny magnet is attached to the backside of the symbols. Its adhesive force is impressive nevertheless: An individual magnet can hold 8 A4 sheets on a whiteboard.
Available in many designs with 4 icons each - from animals to apps - there is something for everybody.
All that at an unbeatable bargain price of under 5 euros - grab some now!
Read about more features and tips