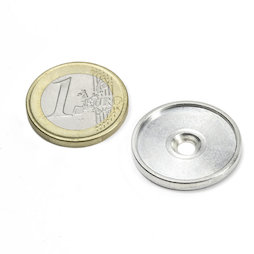 Metal disc with an edge and counterbore M3
Inner diameter 21 mm, as a counterpart to magnets, not a magnet!
Description
These metal discs with an edge are the perfect magnetic bases for our (e.g.)
pot magnets
or
magnetic hooks
. They are countersunk and can be fastened with a fitting countersunk screw to create an even support area.
The edge of these metal discs prevents the magnet from sliding down if attached in a vertical position, which counteracts the
shear force
and maintains a high adhesive force.
Note:
Once a magnet of suitable size (e.g.
CSN-20
) sits on the disc, it is hard to remove thanks to the edge. Therefore, make sure you first attach the metal disc and the magnet to the desired object (or screw in the hook/grommet/handle).
The metal discs are not rustproof and hence not suitable for outdoor use.
Technical data
| | |
| --- | --- |
| Article ID | MSD-21 |
| EAN | 7640155434638 |
| Diameter D | 21 mm |
| Height H | 2 mm |
| Material strength t | 1 mm |
| Made in | Germany |
| Material | Structural steel ST37 |
| Coating | Zinc-Plated (Zn) |
| Weight | 5,5 g |