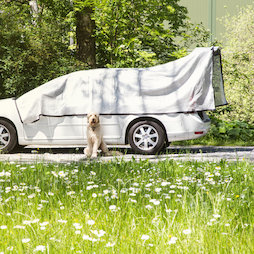 Alunet shade cloth 80% M
sun protection for car and garden, 3 x 5 m
Description
Alunet shade cloth (3x5 m) for larger cars

Alunet 80% is the best available sun protection for the car, camping, garden, greenhouse, water sports, and more. The aluminium mesh with UV-resistant coating reflects 80% of solar irradiation (like a mirror) and protects from sunburn and heat. The mesh structure provides optimal air permeability and prevents heat accumulation.

Especially for dog owners who drive a lot, the light and compact stow-away cloth is ideal for hot days.

The border of the cloth is edged by hand in Switzerland and each corner features a grommet, so the cloth can be secured and will not blow off.
Read about more features and tips
Please note

Improper or rough handling may lead to damage of fragile surfaces such as the car finish. Especially if the car is dirty, the mesh drags the dirt particles over the car finish which may lead to scratches. Make sure the car is clean and don't unnecessarily drag the Alunet over the car finish.
Technical data
| | |
| --- | --- |
| Article ID | M-ALU-0305 |
| EAN | 7640155433617 |
| Length | 5 m |
| Width | 3 m |
| Reflection | 80% |
| Weight | 1,8 kg |