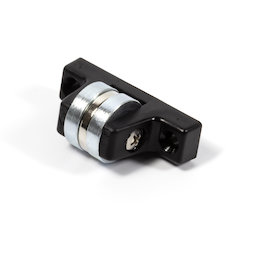 Door stop magnetic
with round pole areas, adhesive angle of 280°
Description
This magnetic door stop is very versatile: Thanks to the round magnetic base, ferromagnetic objects attach at an angle of 280° and counterparts do not have to fit exactly over the magnet.
Screw the door stop onto the back of a door or directly onto a wall. Now you only need a suitable counterpart. In an ideal situation, the door itself or the handle are ferromagnetic. Otherwise, use a screw mount metal disc as linked under "suitable accessories".

The built-in neodymium magnet is not suitable for outdoor use because it will rust and lose its magnetisation. Therefore, we recommend this door stop for indoor use only.