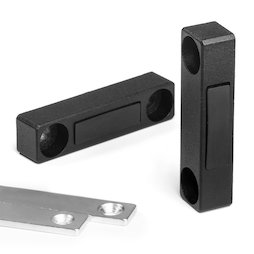 Magnetic fitting narrow for furniture
metal, with counterpart
Please select your desired model.
Description
This screw-on metal fitting is very sturdy thanks to the powder-coated metal. Due to its black colour and 10 mm height, it can be discreetly used in many places. The casing houses a strong neodymium magnet that ensures strong holding power. The rubberised surface produces a pleasing sound when closed and protects the contact area from scratches.

The metal fitting is available in two models. One has the rubberised surface on top and the other has it on the side. Depending on your installation situation, you can decide which type you need. Delivery includes a counterpart plate that can be used if needed. The metal fitting can be easily fastened with two screws.

Delivery includes:
1 metal fitting, 1 counterpart.