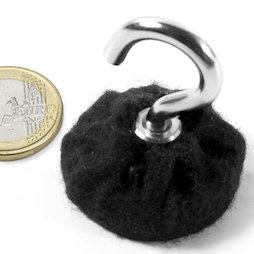 Magnetic hook set with scratch protection
base covered with felt, black
Description
4 super-strong magnetic hooks with felt protection, for fastening on fragile surfaces.
These hooks are the perfect accessory for the Alunet shade cloth: They fasten the net securely on the car without scratching the paint on the vehicle. They are also suitable for other fragile metal surfaces. You can, for instance, hang up a towel directly on the washing machine. The magnetic hooks can be attached, moved and removed without leaving scratching.
Read about more features and tips
Please note

Misuse or rough handling may damage delicate surfaces such as car paint, especially when the car is dirty. The felt cover of the magnetic hook can drag dirt particles across the finish which may lead to scratches. Make sure that the vehicle is as clean as possible and do not unnecessarily drag the magnetic hook across the paint surface.
Technical data
| | |
| --- | --- |
| Article ID | M-HOOK-32/black |
| EAN | 7640155433822 |
| Material | NdFeB |
| Strength | approx. 9 kg (approx. 88,3 N) |
| Colour | Black |
| Material | NdFeB |
| Quantity per set | 4 pieces |
| Diameter D | 3 cm |
| Height | 5 cm |
| Magnetisation | N38 |
| Weight | 210 g/set |