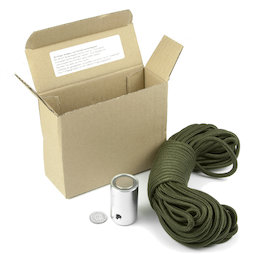 Treasure hunter magnet
retrieval magnet, with 15 m nylon cord
Description
Haven't you always wanted to find a hidden treasure? We don't claim that it will be simple with our
treasure hunt magnet
. But it does open-up the following possibilities for you:
Fish a lost Euro coin out of a river.
Search the beach or ocean for metal pieces that have washed-up.
Recover a cannonball from an old water shaft.
Retrieve a lost piece of metal from the drain.
etc.
The treasure hunt magnet has a diamter of 30 mm, a height of 50 mm, and it weighs 250 g. Thanks to the rounded edges, this magnet doesn't get caught so often and slides off obstacles. The included nylon rope is 5 mm thick and approx. 15 m long.
Important tips:
Be very careful in areas where there may be unexploded bombs!
If you really do find a treasure, you are usually not entitled to keep it - follow the legal regulations!
Read about more features and tips