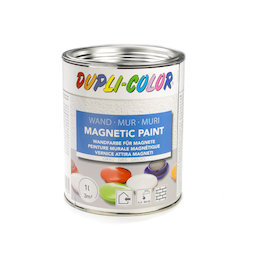 Magnetic paint M
1 litre paint, for an area of 2-3 m²
Description
This magnetic paint by DUPLI-COLOR is a big hit! It transforms almost any surface into a magnetic base for magnets, in a child's room, the kitchen, in the hallway, conference room or at school. Be it an actual wall or part of it, a door or a piece of furniture; an integrated magnetic wall is a very convenient feature.
Please keep the following in mind before you start painting: For optimal results, the painting surface must be as smooth as possible and completely dry. Very porous surfaces should be pretreated with dispersion primer. In contrast, smooth lacquer coated surfaces need to be sanded so the magnetic paint will adhere. Thoroughly stir the paint before you start painting to disperse the metal pigments evenly in the paint.
Characteristics of DUPLI-COLOR magnetic paint
Premium ferrous acrylate dispersion
Suitable only for indoor application
1 litre of paint is enough for 2 coats covering a surface area of 2-3 m²
100% free of harmful heavy metals
Can be covered with emulsion paint or a lightweight wallpaper after 6 hours
Drying time is dependent on ambient temperature, humidity as well as the thickness of the applied paint layer, there are no hard and fast rules about how long it will take. At the latest, the paint will be completely dry after 2 weeks.
Can be combined with whiteboard paint or chalkboard paint. However, allow the magnetic paint to dry for about 2 weeks beforehand to avoid unwanted surface textures.
Read about more features and tips
Please note

In order for magnets to stick, you have to apply at least 2-3 coats of magnetic paint. If you want to apply more than two coats of magnetic paint, you will need an additional can of paint. Allow each coat to dry for 3-4 hours. Please refer to the technical data sheet (PDF - German) for more information on the use of magnetic paint.
Keep in mind, not every magnet will adhere to magnetic paint. You can find a list of suitable magnets in our FAQ Which magnets do I use on magnetic paint?.
Technical data
| | |
| --- | --- |
| Article ID | M-MP-1000 |
| EAN | 4048500120084 |
| Colour | Grey |
| Yield | 3 m² (two coats) |
| Made in | Switzerland |
| Brand | DUPLI-COLOR |
| Weight | 2,4 kg |