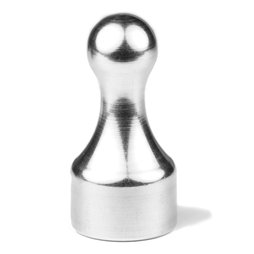 Boss magnet large
exclusive office magnet neodymium, made of aluminium
Description
The Rolls-Royce among office magnets!
12 kg adhesive force - enough to hold 50 pieces of A4 paper on a wall! A 20 x 10 disc magnet is hidden inside the elegant aluminium body. Without the body, you could use the disc magnet only once - because you would never be able to detach it again. As such, this magnet pays for itself rather quickly... The perfect gift for the boss who has it all. Guaranteed amazement and joy!

This exclusive magnet is produced especially for us in a small workshop in Switzerland and is of the finest Swiss quality. Each boss magnet is shipped in a protective sleeve to prevent scratches to the aluminium.
Read about more features and tips