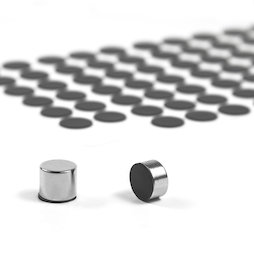 Silicone discs Ø 12 mm
self-adhesive, 98 per set
Description
These self-adhesive silicone discs increase the friction between the disc magnet and the mounting surface and thus increase the magnet's load capacity in the shear direction. Ideally, the silicone discs can double or triple the adhesive force of a magnet in the shear direction. This increase depends, however, on the individual material pairing, the thickness of the magnets and potentially the temperature and can therefore not be calculated exactly. The silicone discs also protect delicate surfaces from scratches.

You can either glue them directly on the underside of a round magnet or to the metal surface where the magnet will be attached. The strong 3M adhesive ensures long-term hold. The adhesive cannot withstand temperatures above 80 °C over long periods of time, but exposure to temperatures of up to 150 °C for a few minutes should not have an adverse effect. Like all self-adhesive products, silicone discs need to be placed on smooth surfaces, pressed on firmly and then be allowed to rest for best results.

Prior to using anti-skid pads on a large scale, we definitely recommend performing a few tests.
Read about more features and tips
Technical data
| | |
| --- | --- |
| Article ID | M-SIL-12 |
| EAN | 7640155439428 |
| Material | Silicone |
| Diameter | 12 mm |
| Thickness | 0,5 mm |
| Pieces per sheet | 98 pieces |
| Adhesive | 3M, No. 9080A |
| Shelf life adhesive | 24 months (approx.) |
| Weight | 25 g/set |