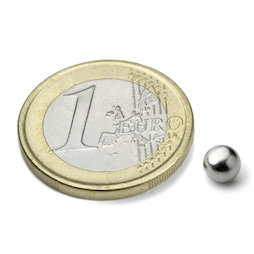 Sphere magnet Ø 5 mm
Neodymium, N35, nickel-plated
Description
Topseller: More than 830 000 sold!
Nickel-plated small sphere magnets for endless combining and experimenting. Available in units of 20 (minimum order quantity is 20 units).
Caution: Due to the dangers of swallowing magnets, these small spheres (as well as all super magnets) are not suitable for children under 14 years of age. The swallowing of two or more magnets may be fatal. Even though those magnetic spheres are often advertised on the Internet as toys, please take this warning seriously and keep the magnets at a safe place out of children's reach.
Read about more features and tips
Technical data