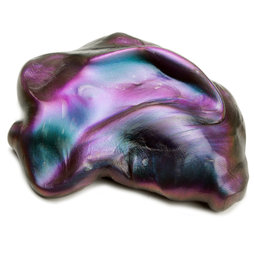 Silly Putty "Super Scarab"
type "Flip Flop", blue-purple-black
Description
Silly Putty "Flip Flop" impresses with cool tricks and fascinating effects. You can shape it, knead it, pull it, rip it, or let it bounce. Additional feature of "Flip Flop": It shimmers and dazzles and seems to have a different colour however you look at it! Available in the following models: Super Scarab, Super Oil Spill and Neon Flash. The magic putty is delivered in a practical metal container.
Other nice characteristics of Silly Putty:
Does not contain water and therefore does not dry out
Does not stick or stain and is not greasy – keeps hands clean
Is nontoxic and therefore suitable for children 4 years and older
Read about more features and tips
Technical data
| | |
| --- | --- |
| Article ID | M-PUTTY-IRIS/scarab |
| EAN | 8594164760396 |
| Table of Contents | 80 g |
| Colour | Super scarab |
| Weight | 140 g |