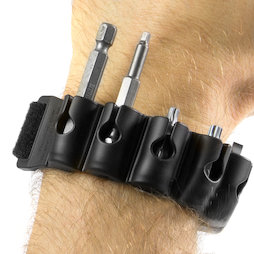 Bitpass
magnetic bit holder, for wrist or cordless screwdriver, comes without bits
Please select your desired model.
Description
Bitpass is a magnetic bit holder for quick bit exchanges (screwdriver bits). A Bitpass can hold 6 standard bits with a universal length of 25 mm. Available in three colours: black, white and red.

The magnetic bit holder made of neodymium is perfectly suitable for inserting, holding and extracting bits with one hand - even when wearing work gloves. Bitpass easily adjusts to your forearm. Thanks to its wide adjustment range, the robust Velcro strap can be worn even on top of an overall sleeve. It is comfortable and ultra-light (only 75 g with 6 bits) - you'll soon forget you are wearing it. Bitpass can also be very easily attached to your screwdriver. The strap is adjustable to your needs without having to open up the whole gear.
Read about more features and tips
Technical data
| | |
| --- | --- |
| Article ID | WS-BIT-01 |
| Material | Hypoallergenic TPU plastic |
| Bits | Holds 6 C6,3 (1/4"), length 25 mm |
| Size | Variably adjustable |
| Closure | Velcro fastener |
| Weight | 32 g |