Make your own magnetic letters
Upcycling of keyboards and game pieces
Online since: 06/07/2022, Number of visits: 16168

Upcycling is very popular at the moment. The great thing about homemade decorative magnets is: You can be as creative as you like. For our next upcycling project, we transformed discarded computer keyboards and old game pieces from word games into trendy magnetic letters.
Materials needed
To make these simple DIY letter magnets or number magnets, you will need the following materials:
An old computer keyboard
Word game pieces
Magnet adhesive, such as UHU MAX REPAIR
Small neodymium disc magnets type S-08-02-N
A butter knife or other tool to pry things off.
Old keyboards become magnetic letters
The individual keys on computer keyboards can be easily pried off with a butter knife or wooden pick. To ensure the magnet glue adheres well to the keys, you should give the keys a quick cleaning with soap and water and allow them to thoroughly dry before you proceed.


Lay the keys face side down and dab on a small amount of magnet adhesive. Press the disc magnet firmly onto the key. Now leave the letter magnets to dry for 24 hours.

Important: Check that the disc magnet is not covered in glue. This would reduce the adhesive force of the magnets.


What works with the letter keys does, of course, also work with the keys from the number pad. This way, you will get a nice mix of magnetic numbers and magnetic letters.
Magnetic letters made of word game pieces
If you have an old word game, you can also transform those game pieces into letter magnets. Dab a little magnet glue onto the back of the pieces and firmly press on the disc magnet. As wooden magnetic letters, the game pieces create a great contrast to the magnetic letters and numbers from the keyboard.

Are you a fan of word games? Use these practical magnets to create a dynamic wall decoration. Find out how in our customer project

Decorative word game

.
Trendy decorative magnets and perfect for playful learning
Use the letter magnets to leave little messages for your family members or express a warm welcome for visitors. But these magnetic letters and numbers are not just decorations for your fridge, whiteboard or magnetic board. You can also utilise them to help your children learn. Have your kids spell out words with the magnetic letters or solve math problems with the magnetic numbers. It makes learning much more fun!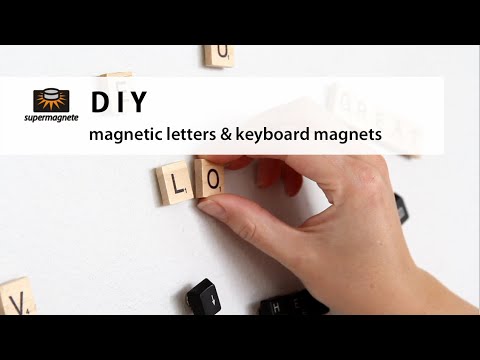 The entire content of this site is protected by copyright.
Copying the content or using it elsewhere is not permitted without explicit approval.