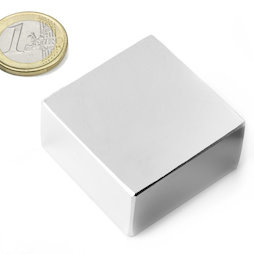 Block magnet 40 x 40 x 20 mm
Neodymium, N42, nickel-plated
Description
You'd like to do more than just comfortably hang up your sledgehammer, but you're not quite ready for the DEATH MAGNET? Then perhaps this is the right magnet for you: THE COLOSSUS!

Embed it in your ceiling and you can conveniently hang up your knight's armour (whether you will ever be able to get the armour down is something we cannot guarantee!).

Do we have to emphasise that THE COLOSSUS is not suitable for children?
Read about more features and tips
Technical data