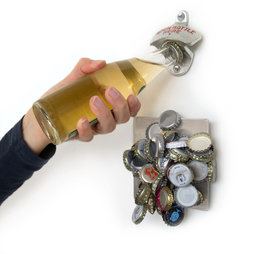 Wall bottle opener
with magnetic beer cap collector, includes mounting accessories
Please select your desired model.
Description
This wall bottle opener not only catches everyone's eye but also falling bottle caps that adhere to the magnetic trap (metal plate with magnets behind). It collects up to 60 bottle caps underneath the opener. Only the third case of beer reveals the (magnetic) limits of this wall bottle opener.
The assembly is finished in no time. Two screws attach the wall bottle opener and two more screws the plate with the strong disc magnets. The plate should be mounted two to three finger-widths under the opener. Everything that touches the magnet becomes magnetic itself. Therefore, the bottle caps not only attach to the plate but also hold each other.
Included in delivery:
Wall bottle opener made of cast iron
Magnet trap: 3 strong disc magnets mounted on a plate
4 screws and suitable rawlplugs
In the "beer" package: A sheet metal sign with beer imprint (11 x 8 cm) and optional protective foil
In the "stainless steel" package: A stainless steel plate (11 x 11 cm)
Read about more features and tips
Technical data
| | |
| --- | --- |
| Article ID | M-40 |
| Made in | Germany |
| Material | Cast iron |
| Weight | 470 g/set |