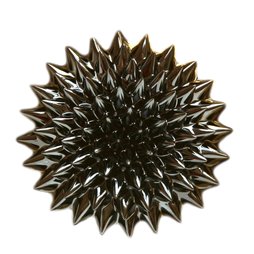 Ferrofluid 10 ml
magnetic fluid for experiments, in PET bottle with pipette
Description
A
ferrofluid
is a liquid containing very small ferromagnetic particles (magnetite). These particles are only a few nanometres in size (0,00001 mm). Because of these particles, the liquid reacts strongly to magnetic fields: As soon as a strong magnet approaches the ferrofluid, countless spikes form (see the following photos and videos).
The ferrofluid comes in a plastic bottle with a pipette. The bottle is delivered in sturdy cardboard packaging to ensure that no ferrofluid runs out during transport. The 10 ml of ferrofluid is very yielding so you can do several experiments with one bottle.
Technical data sheet Ferrofluid (PDF, English)
Read about more features and tips
Please note

Since ferrofluid creates stains on clothing that cannot be removed, we recommend wearing old clothing or an apron while experimenting. It also leaves hard to remove stains on the skin, hence, you should wear gloves and protective glasses.
These protective accessories are not included in the delivery.
Technical data
| | |
| --- | --- |
| Article ID | M-FER-10 |
| EAN | 7640155439268 |
| Table of Contents | 10 ml |
| Weight | 36 g |